Ellie has FIV's Web Page
Domestic Short Hair / Tuxedo / Mixed (short coat) : : Female : : Adult : : Medium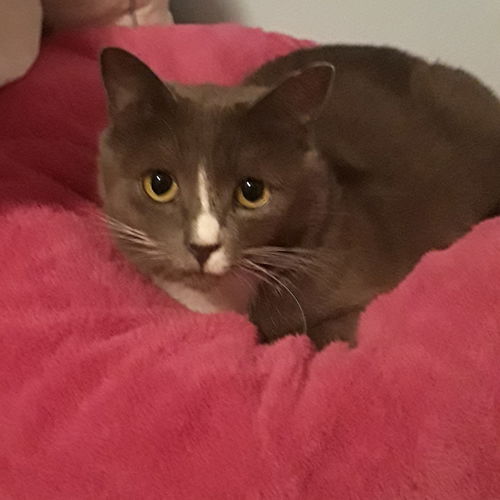 Print an adoption flyer for Ellie has FIV!
Application, References and Adoption Fee Required

Please visit us at www.KittyColony.org for more information about our rescue.
About Ellie has FIV

Status: Available for Adoption (adoption info)
Species: Cat
General Color: Gray and White
Color: Tuxedo

Declawed: No
Housetrained: Yes
Ellie was rescued from a hoarding situation in Philly. She was originally brought inside by a friend of a friend, but then languished in a cage until my friend was moved to an assisted living facility. Ellie was moved to another room of the house but escaped the "safe room" where the cats were being held before relocation to rescue or barn homes. She found a hole in the wall, and then a spot in a kitchen drawer to hide. We were able to catch her and put her back in the safe room. She escaped again and had to be trapped after all the cats were out of the house and they were renovating it. Through all her hardships and ordeals, she has triumphed and adapted to being a house cat. While she is not fond of being held, she loves to be pet and spoiled.
She loves cozy beds and high dressers where she can reign in splendor. Yes she does have FIV, but lives in harmony with cats of all ages and personalities and who are negative for FIV. FIV is not a death sentence, merely a caution to keep a close eye on kitty's health.
We believe her to be approx 6-8 years old. She recently had a dental to remove a few teeth as FIV kitties are prone to dental disease.
Can you be her happy ending?
More about Ellie has FIV
Good with Cats

Please visit our sweet kitties at the Fruitville Pike Petsmart in Lancaster, PA on Saturdays from 1:30-3:30pm.

If you are interested in a specific cat or kitten, please email first to see if it will be shown that day.

Please email us at kittycolony@hotmail.com for more information.

Kitty Colony is a 501c3 non profit organization and all donations are tax deductible.